Unexpected Expenses and Sequestration Hits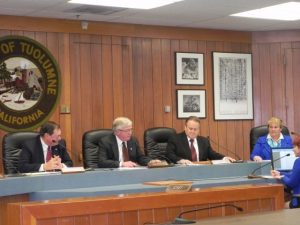 Tuolumne County Board of Supervisors

View Photos
Sonora, CA — Tuolumne County Board of Supervisors got a budget update for the mid-year $53 million budget showing added jail costs and projected sequestration revenue losses. However, overall County Officials call it good news despite those hits. There was a $137,000 drop in the general fund. Much of the loss comes from a projected $90,000 hit to the general fund from federal sequestration cuts and lower profits from the sale of the Mother Lode Medical Center property and land behind the library.
County Administrator Craig Pedro also says unexpected jail repair costs also took a toll, "Based upon the most recent estimates, and they're sending cameras down into the toilets and the pipes and finding things, the contractors increased their original estimated cost of $250,000 to about $315,000 in actual work and labor including $56,000 in design costs."
Pedro says most of the jail costs can be offset by the contingency fund and savings in Sheriff Department expenses. He also say the budget will see more sequestration hits once the state cuts are known and that will have a trickle down effect on the county's budget. Pedro stressed to Supervisors that these losses are estimates and staff will be keeping a close eye on the numbers for a final tally.

The Board voted unanimously to approve the mid-year budget review adjustments.