Hit-And-Run Suspect Sought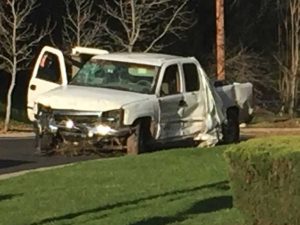 Damaged truck in hit-and-run

View Photos
Sonora, CA – A bizarre scene for some Sonora residents who were surprised when a smashed up pickup came flying out of the woods onto Mill Villa Road Thursday night – slamming on the brakes the female driver then jumped out of the truck and bolted.
When CHP officers arrived on the scene around 5:30 p.m., they found the damaged 2003 GMC Sierra truck crippled by the road side. CHP spokesperson Officer Joelle McChesney shares that the woman was actually southbound on Highway 49 when she lost control of the pickup and went sailing off the roadway and down an embankment towards Woods Creek.
"The driver then began to accelerate driving along the creek. She traveled through a couple of trees and that's how the vehicle sustained damage to the front," details McChesney. She adds, "There was fluid coming out of the truck's engine and one tire was flat, so she was driving on the rim. It just got to the point where the vehicle was no longer operable."
Officers have talked to the registered owner of the truck, but they do not know who was driving it and are cooperating with the investigation, according to McChesney. The pictures in the image box show the damage to the front of the pickup, but the CHP notes that the dents to the side of the truck were from collision that happened two months ago.
Anyone who may have witnessed the incident or have information on the possible driver is asked to call the CHP at 209-984-3944.