Deputies, CHP Nabs Pair Suspected In Power Tool Heist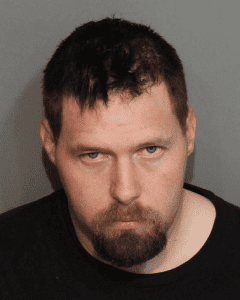 James Dale Ray CCSO Booking Photo

View Photos
San Andreas, CA — Two Calaveras County residents with outstanding warrants were arrested this week in connection allegedly stealing over $14,000 in power equipment.
According to Calaveras County Sheriff's spokesperson Sgt. Greg Stark, Julia Lynne Hall, 47, and James Dale Ray, 34, both of Valley Springs, were contacted during a traffic stop in the area Wednesday night around 7:20 by CHP officers and deputies who were working off a "be-on-the-lookout" (BOL) bulletin.
Stark says the pair was suspected of burglarizing the Valley Springs Cal-Waste transfer station on Double Springs Road earlier that morning around 4:30. "Someone saw them park near the area of the incident and they saw items in the back of the truck that they believed stolen at the time," he explains.
Evidence from the traffic stop resulted in the obtainment of a search warrant that was served at their home, where law enforcement officials found a large amount of property that was reported stolen in the earlier burglary.
Both suspects were booked into the Calaveras County Jail on fresh charges of burglary, possession of stolen property and conspiracy to commit a crime and already had failure to appear warrants; each was assigned a $20,000 bond.