TuCare Changes Dinner Venue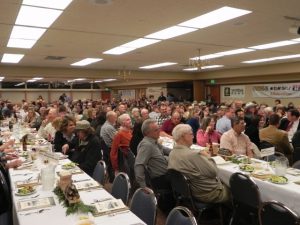 Dinner at the Elks Lodge

View Photos
The 24th annual TuCARE Dinner and Auction will still take place this Saturday March 16th, but not at the Mother Lode Fairgrounds.

TuCare Executive Director Melinda Fleming, was Wednesday's KVML "Newsmaker of the Day".
Fleming claims the move was forced due to the popularity of the celebrity guest speaker.
"We typically sell 300 dinner tickets, but due to the high demand this year we bumped it up to 400," said Fleming.
The guest speaker is former large animal vet and humorist Baxter Black.
Fleming said, "Baxter's following is enormous. We have people driving in all the way from distant central valley locations including Fresno, all the way up to a couple driving in from Klamath Falls, Oregon."
The change of venue moves the dinner from the Mother Lode Fairgrounds in Sonora to the Tuolumne Veterans Memorial Hall in Tuolumne City. The time of 5-9 PM remains the same.
Seat selection is on a first-come, first-taken basis. Only dinner sponsors (those who purchased a sponsorship for the dinner) will have reserved and assigned tables. Plan on paying for auction items with cash or local check. Silent Auction runs from 5:00 – 6:30 only. Live Auction is from 7:30-8:00 only. Auction items will not be available to pick up till after the event closes.
Finally, Fleming reminds attendees to bring their appetite for an authentic steak bar-b-que dinner.
TuCare stands for Tuolumne County Alliance for Resources and Environment, Inc. It was established to enlighten and advise the public on conservation and the wise use of our natural resources.
TuCare is involved in issues related to public and private lands usage which TuCARE feels is essential for a vital and functioning local, and state economy.
Proceeds from the event will benefit TuCare's programs including "Tours For Kids". Those are educational programs for school children, which at times, includes hands-on field trips.
Contact TuCARE at 209-586-7816 for information or look at http://www.tucare.com
A non-profit organization, all of the TuCare programs come from donations, memberships and grants.
The "Newsmaker of the Day" can be heard each weekday morning at 6:47, 7:47 and 8:47 on AM-1450 KVML.