Committee To Review Sonora Dairy Queen And KFC Projects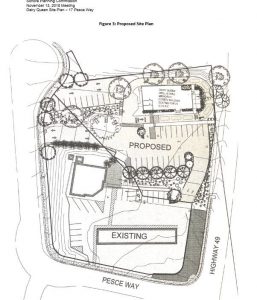 Proposed Site Plan Overview for Sonora Dairy Queen Project off Pesce Way

View Photos
Sonora, CA — A meeting coming up next week is one of the final steps before construction can begin on two fast food restaurant projects that have been in development in Sonora.
The Sonora Planning Commission earlier gave the green light for a planned Dairy Queen restaurant at 17 Pesce Way and a KFC to be built at the site of the former Denny's at 1001 Mono Way. This coming Wednesday the city's Parks, Recreation and Beautification Committee will review the landscaping plans for the two separate projects.
Following approval by the Planning Commission, Sonora Community Development Director Rachelle Kellogg says both projects are now going through the permitting process, and the committee will review the preliminary landscape plans and make any needed adjustments.
They are the only items scheduled to be voted on during the 3pm meeting, Wednesday, March 27, at City Hall. The Dairy Queen is being developed by Jaykay Properties, LLC., and the KFC is being developed by Harmon Management Corporation.