March Art Related Weekend Events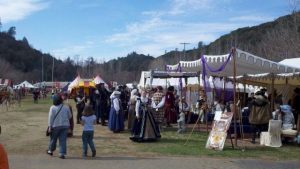 Celtic Faire

View Photos
Many art related events are being held this weekend in the Mother Lode. As mentioned in the Calaveras Arts Council ArtSpirit 2013 event listing; "March has been designated both nationally and statewide as Arts Education Month". ArtSpirit, the 16th annual High School Juried Exhibition, will open in Gallery Calaveras on Saturday March 9th in San Andreas. A public reception for nearly 260 participating artists from the high schools of Bret Harte, Calaveras, and Mountain Oaks. For more information view the ArtSpirit event listing here.
The Mother Lode Fair Grounds will be hosting the 27th Annual Sonora Celtic Faire. Attendees witness, participate, and celebrate the cultures of Ireland, Scotland, Cornwall, Wales, and all Celtic Nations. The three day event began today with "Family Day". At the fair are Scottish & Irish Clans, belly dance troupes, Scottish dancers, Irish Step dancers, 600 costumed re-enactors with the group Celtic Windows in Time, archery, Vikings, jugglers, a large Celtic food court and 80 Celtic vendors, artisans, and crafts persons. This year the faire will host a Scot's & Irish-Whiskey Competition.
Sonora's 2nd Saturday Art Night begins at 5:00pm. This month welcomes Irish fiddler Cillie Murphy, plus a host of California Bluegrass music all over downtown. The event is supported by Central Sierra Arts Council, Mother Lode Art Association, Habitat for Humanity, Hive-Arts.Org and other local businesses. For more information view the event listing.
Tuolumne County Library Trivia Bee begins at 5:30pm at the Sonora Opera Hall. This year's theme is, "Reading Takes You on Unexpected Journeys". Proceeds will benefit literacy programs at the Tuolumne County Library, details about the Tuolumne County Library Trivia Bee are here.
Calaveras Follies, also on Saturday, is themed "A Night at the Oscars" with the fanfare of a red carpet, paparazzi, celebrity sightings and a professional musical review. The event begins at 6:30pm at the Bret Harte Theater in Angels Camp. Details and contact information are in the event listing here.
On Sunday, Tuolumne County Hi 4-H Pancake Breakfast begins at 8:00am at the Sonora Elks Lodge. The event listing is here.
Also on Sunday the St. James Concert Series begins at 3:00pm at the St. James' Anglican Church known as the Red Church. Susan Lamb Cook will play cello and Gayle Blankenburg, piano, in a concert featuring the music of Schumann, Beethoven, and Rachmaninoff. The event listing is here.