County Picks New Tax Collector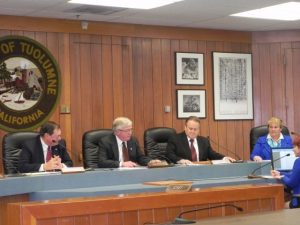 Tuolumne County Board of Supervisors

View Photos
Sonora, CA — Shortly after Del Hodges retires as Tuolumne County Treasurer and Tax Collector, his second in command will take over.
By a vote of 3-2, the Board decided they will appoint Shelley Piech during the first meeting in May. Hodges is planning to retire on April 30th, and recommended that Piech be his successor. The votes in opposition were Randy Hanvelt and Karl Rodefer. Both praised Piech, but preferred to have a full fledged search where outside candidates can apply.
"As a matter of general principal, it is my view that we owe it to the public to do that," said Hanvelt. "The candidate you suggest clearly meets all the qualifications, and I have no doubt that she is the best candidate internally. But we don't know what's out there."
Supervisors John Gray, Evan Royce and Sherri Brennan argued that the end result would likely be Piech, so they felt that the process was not a good use of time and resources. The elected position will be on the ballot again in 2014.
On a related note, today the Board voted 5-0 to appoint Sarah Carrillo as the County Counsel. Her swearing in will come at a later meeting.