Sonora Man Shocked To Find Neighbor In Apartment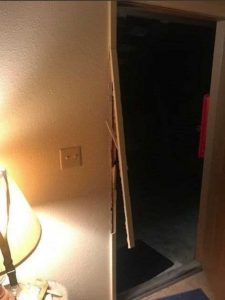 Kicked in door at the Chuckar Circle apartment

View Photos
Sonora, CA – An elderly Sonora resident found a man in his living room in the middle of the night and then took matters into his own hands.
It was just after midnight last night when the victim awoke to discover his front door had been kicked in and there was a man standing in the living room of his apartment on Chukar Circle. A neighbor heard screams for help coming from the nearby apartment and called 911. Tuolumne County Sheriff's spokesperson Sgt. Andreas Benson further details that the resident, fearing for his life, grabbed a handgun and ordered the intruder to leave, which he did.
Once on the scene, witnesses told deputies that the suspect was actually another neighbor in the complex, 34-year-old Joseph Smith, who they saw running out of the victim's apartment and upstairs to his unit. When deputies confronted Smith they detected a strong odor of alcohol while also observing that he had watery, bloodshot eyes.
When questioned as to why he had allegedly broken into his neighbor's apartment Smith had no answer. He was subsequently taken into custody without incident for burglary.