Butte Fire Debris Impacted By Recent Storms May Have Killed Worker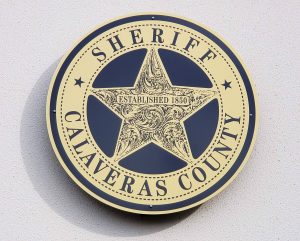 Calaveras County Sheriff Department building logo

View Photos
San Andreas, CA – More details are emerging about what claimed the life of a Calaveras County employee as he was on an industrial job site earlier this week.
As we reported Monday here, 57-year-old Ansel John Bowman died that morning while working in a rural area near Mokelumne Hill. Calaveras County Sheriff's spokesperson Sgt. Greg Stark confirmed to Clarke Broadcasting that Bowman was a Public Works road maintenance worker assigned to the brushing crew.
Stark further reports, "He was working off Doster Road…part of a crew doing routine brush work and debris cleanup alongside the road…running a chipper when a large log rolled down the hill and struck him." Multiple agencies responded to the scene around 10:20 and while resuscitative efforts took place, they were not successful.
Calaveras County Coroner Kevin Raggio confirms Bowman's cause of death as multiple blunt force crushing injuries from the downed tree's rollover. He adds that Bowman did not survive very long against the heavy moving force that came down upon him, much like a rolling pin.
According to Stark, CAL Fire, the Sheriff's Office and Division of Occupational Safety and Health, better known as Cal/OSHA, is still conducting an investigation, working to determine what exactly took place that might have caused the large tree piece to move or be dislocated.
He shares, "It appears that some of the woody debris that was being cleaned up on Monday was part of the Butte Fire [debris] — and then it was impacted by the 2019 storms."