Dillashaw Gives Up UFC Title Following Drug Test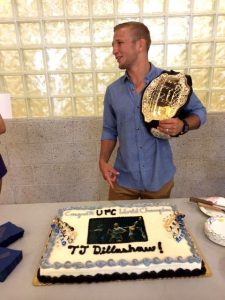 T.J. DIllashaw In Angels Camp

View Photos
Angels Camp, CA — Calaveras County native TJ Dillashaw has voluntary relinquished his UFC bantamweight title following an "adverse finding" in a drug test.
The Associated Press reports that Dillashaw chose to surrender the belt after being notified of the finding by the New York State Athletic Commission and the US Anti-Doping Agency. It stems from a drug test administered ahead of his last fight in January, and it is not immediately clear what drug was found in his system. Dillashaw, the bantamweight champion (135-pound division), cut his weight before the January event as he was attempting to become a two-division champion, going for the flyweight title as well. However, he was defeated by Henry Cejudo.
Addressing the failed drug test on social media, Dillashaw stated, "While words can't even begin to express how disappointed I am at this time, please know that I'm working with my team to understand what has occurred and how to resolve this situation as quickly as possible. Out of fairness and respect to the rest of the division, I've informed the UFC that I'll be voluntarily relinquishing my title while I deal with this matter."
Dillashaw grew up in Angels Camp and attended Bret Harte High School. In 2014, the city declared "TJ Dillashaw Day" following his initial UFC bantamweight title. He would later lose the title, but then go on to reclaim it again in 2017, and he had held it ever since.