Tuolumne County Approves Emergency Kewin Mill Contract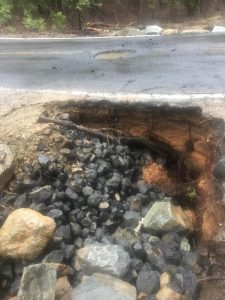 Kewin Mill Road storm damage

View Photos
Sonora, CA — The Tuolumne County Supervisors officials awarded a $535,000 contract to Njirch & Sons to make needed emergency repairs on Kewin Mill Road north of Belleview Elementary School.
On February 25 the culvert near the first creek crossing was overwhelmed due to heavy precipitation, and the damage continues to threaten the road's integrity. There are no suitable detour routes to go around the damaged area other than a private, one-lane unpaved road.
The contract covers replacing the existing culvert, reconstructing the roadway, raising the roadway profile and armoring the slopes with rock slope protection. The work is beginning this week and will take approximately 28 working days to complete. Crews will be on hand, Monday through Saturday, from 6am-8pm. During the work hours motorists should be prepared for up to 20 minute delays.
Supervisor Ryan Campbell, whose district is where the work is taking place, says, "I know that it is a frustrating situation for the residents of Cedar Ridge, and this is about as fast as a project of this type can be done….it is a testament to the priority that the CRA office and the board have placed on this."
Board Chair Karl Rodefer referred to the pace of getting the project going as a, "Herculean effort."
The contract was approved 5-0.