Sonora Man Busted Trying To Sell Stolen Tools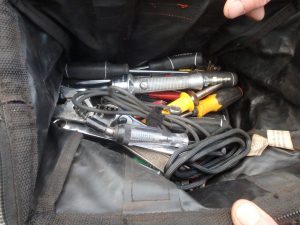 Stolen Tools In Sonora

View Photos
Sonora, CA — Tools were stolen from the back of two work trucks parked near downtown Sonora, and a suspect was arrested after trying to sell them online.
One of the trucks had a locked toolbox, and $1,000 worth of items were taken. The second incident involved tools being taken from an open bed of the truck, and the suspect getting away with $600 worth of items.
One of the victims soon noticed his tools being offered for sale on Facebook. The Sonora Police Department reports that he and the other victim, along with a group of friends, set up a meeting with the person advertising the tools, and then confronted him about the theft. The PD reports that the suspect, 25-year-old Shawn Christopher Dunn of Sonora, allegedly admitted to theft and took the victims to his apartment to return most of the items stolen. The Police Department then followed up and arrested Dunn on a variety of charges. The PD notes that he is also a suspect in two other cases involving thefts from vehicles.