TuCARE Recognizes Leaders And Hears From CA Farm Bureau VP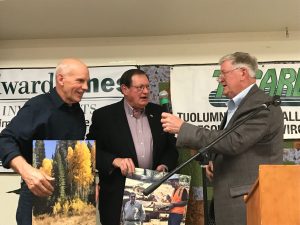 Mike Albrecht And Randy Hanvelt Recognized By TuCare President Glenn Gottschall

View Photos
Sonora, CA — The Sonora Elks Lodge was packed Saturday evening for the annual Tuolumne County Alliance for Resources and the Environment (TuCARE) annual dinner.
The organization is supported by members of the forest products industry and aims to educate young and old about natural resource issues. The night included a silent auction, dinner, live auction, and then a keynote address by local resident Shaun Crook, a VP with the California Farm Bureau Federation. His speech was entitled "Ordinary is Extraordinary." It focused around the idea of ordinary people in the natural resources community stepping up to tell their stories and getting involved in the debate over forest management, and the future of ag and forest land.
Crook is the first logger to serve to serve as VP on the California Farm Bureau, an organization with 40,000 members. He is also one of only a few to reside in a smaller, rural county. During his speech he noted that the cost to comply with many agriculture related regulations has increased 800-percent over the past decade.
On the topic of water, he says, "Whether we are having floods, or we need more dams, water, is one way or another, always on the docket. In forest management specifically, we know the benefits of having a healthy forest and the excess water we can create coming off of the landscape, and how we can contribute more to the state's water supplies."
Special recognition was also given by the organization, the "Big Picture Award," to longtime TuCARE member Mike Albrecht, of Sierra Resource Management, and former Tuolumne County Supervisor Randy Hanvelt. They were praised for having a full understanding of natural resource issues and continuously educating state, federal and local leaders. They both also received recognition at the meeting from Assemblyman Frank Bigelow, and representatives for Congressman Tom McClintock and Senator Diane Feinstein. Hanvelt also noted that his next path, after leaving office, will be working with the Associated California Loggers, a group that represents companies and individuals that harvest and transport materials for the forest products industry.