Marijuana Eradication Numbers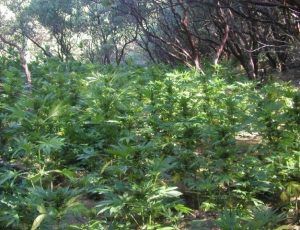 Marijuana Field

View Photos
Sonora, CA — The number of marijuana plants eradicated this past year was up in Calaveras County, but down in Tuolumne County.
Officials with local, state and federal agencies spend many of the summer months searching for illegal grow sites in forested areas.
54,000 plants were eradicated this past year in Calaveras County. Sgt. Chris Hewitt of the Sheriff's Office says 20,000 plants came from one single grow. In 2011 there were 32,000 plants eradicated and in 2010 there were 48,000.
Meanwhile, Tuolumne County had less than 30,000 plants eradicated this past year. The number is down from recent years. Click here to read a story from 2010 when Tuolumne County saw a record 411,000 plants destroyed. Some officials believe that many of the marijuana grow operations have been pushed to other regions due to increased enforcement over recent years.