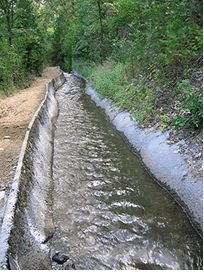 T.U.D. Ditch System

View Photos
Sonora, CA — The public has a chance to take part in two tours and workshops presented by the Tuolumne Utilities District. It is a chance for the new board, and members of the public, to learn more about T.U.D. operations. There will be a workshkop regarding the ditch system beginning at 1:30pm in the board room. It will be followed immediately by a public tour from 3-5pm.

A tour of the water treatment facility is set for February 27th. The workshop will run from 1:30-2:30pm. It will also immediately be followed by a public tour from 3-5pm.
General Manager Pete Kampa says, "We have had some excellent feedback from the Board members on the workshops that we held in January on Wastewater and Customer Service and Finance. Our water system has a lot of components to it from the raw water ditch system to the final process of water treatment that we thought it would be difficult to cover all of it in just one day. We will dedicate this month to going over the water systems in two separate workshops."
Both of the tours will begin in the T.U.D. meeting room. If you are interested in attending either, you are asked to contact Lisa Westbrook at 532-5536, ext. 501. Or, you can e-mail lisaw@tudwater.com.
The District will concluding this first segment of educational tours March 13th with a workshop on TUD's Projects and the Engineering Department.