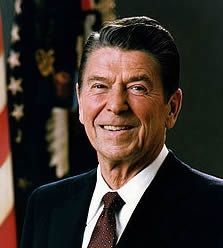 Ronald Reagan

View Photos
Sacramento, CA — Governor Jerry Brown has officially declared it "Ronald Reagan Day."
Today would have been late President's 102nd birthday. Reagan also served as California Governor from 1967-75, defeating Governor Pat Brown, Jerry's father.
This afternoon Governor Jerry Brown issued the following proclamation:
"From his humble Midwestern origins, through a successful career in Hollywood, and on to the highest offices in his state and country, Ronald Reagan lived the California dream.
On this 102nd anniversary of his birth, we remember not only his most celebrated achievements-his successful diplomacy with Mikhail Gorbachev and the economic recovery that occurred under his presidency. We also remember the turbulent years of his governorship, during which he proved his ability to manage the affairs of the state, and earlier, the talent and the skill he brought to his work in one of our state's most renowned and beloved industries.
Above all, we remember the man: his irresistible optimism, faith and good humor. As a way to honor his memory, I recommend that Californians give as generously as they can to the Ronald and Nancy Reagan Research Institute."