Fate Of Planning Commissions Looms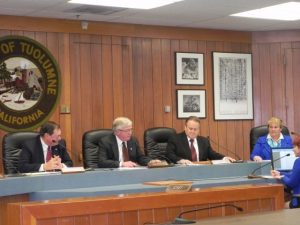 Tuolumne County Board of Supervisors

View Photos
Sonora, CA — The Tuolumne County Supervisors will decide whether to take the next step towards streamlining and eliminating several of the planning commissions and design review committees. The Board will vote whether to direct staff to prepare several ordinances related to the matter.
As reported previously, a taskforce is recommending the elimination of the Jamestown Area Planning Commission, Columbia Area Planning Commission, Southern Tuolumne County Planning Commission, Muller Subdivision Design Review Committee, Phoenix Lake Estates Design Review Committee, Tuolumne Design Review/Planning Advisory Committee, and the Twain Harte Design Review/Planning Advisory Committee.
The group recommends keeping the Tuolumne County Planning Commission, the Historic Preservation Review Commission, and the Agricultural Advisory Committee.
In addition, they would like to see the membership of the Board of Supervisors Planning Committee modified so that it includes two Supervisors, two members of the Planning Commission and one at-large member.
The proposed changes would be effective July 1st of this year.
Also on Tuesday, the Board will pick up a conversation about amending the ordinance code related to paying up front taxes and assessments on newly created or reconfigured lots.
In addition, they will vote on appointments to the Biological Resources Review Guide Ad Hoc Committee.
Tuesday's meeting begins at 9am in the Supervisors meeting room. It will be streamed live in the multimedia section of myMotherLode.com.