Hearing On Possible League Switch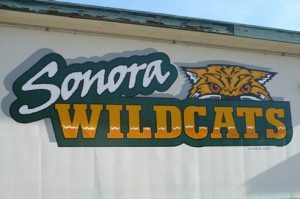 Sonora High School

View Photos
Stockton, CA — Sonora High School's possible sports league switch proposal is being talked about at a realignment meeting in Stockton today. The Sac-Joaquin Section realignment committee is holding a public hearing on schools proposals to change leagues.
One of those asking to switch leagues is Sonora High School. The section office has proposed that Sonora High's sports teams leave the Valley Oak League and join the Mother Lode League next school year. Click here for an earlier story on the full proposal. The Mother Lode League currently has 6 teams including Summerville and Calaveras.
Sonora High School Principal Todd Dearden attended the meeting. He says, "Today the schools and leagues made their recommendations on what they would like to see then the committee will enter into the deliberation phase. In that phase the committee will discuss the options presented and the merits. No decision will be made today it will be several weeks in the future."
Dearden says another option given to the committee was for Sonora to join the Trans Valley League which has seven teams including Escalon, Modesto and Riverbank. Dearden recommended they go into the Mother Lode League.
Another Realignment Committee meeting is scheduled for Tuesday, February 19th in Stockton to further discuss any possible realignment. A final decision is not expected until the committee's April 9th meeting.
Click here for more information on the Leagues.