Supervisors May Try Again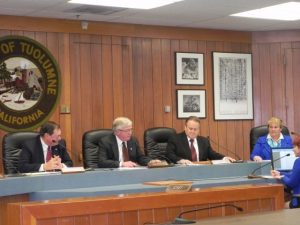 Tuolumne County Board of Supervisors

View Photos
Sonora, CA — The Tuolumne County Supervisors will vote whether to sell the former Mother Lode Medical Center property.
The county put the property on the market in November of last year, but failed to receive the $950K minimum bid. This time the county is planning to reduce the minimum price to $900K. The empty facility is located at 22044 Cedar Road. To view a map, click here. It is noted that the roof was recently replaced by a contractor in order to make the property more desirable.
The Board will pick up discussion about approving the 2013 Board Goals, and the Tuolumne County Five Year Plan.
The Supervisors will also vote on the annual 2013-14 fee that is paid by mobile home park owners to the county related to the Rent Control Ordinance. The ordinance has a provision that requires the park owners and residents to pay the county's costs to administer and defend it against any lawsuits. The county is estimating that it will cost a total of $23,958 this fiscal year, which equates to $30 per space. If approved, it would be $8 higher than last year.
Tuesday's meeting begins at 9am in the Supervisors meeting room. It is open to the public. The meeting will be streamed live in the multimedia section of myMotherLode.com.