Quiet Holiday For Law Enforcement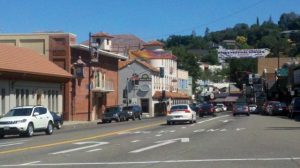 Downtown Sonora

View Photos
Sonora, CA — Tuolumne County law enforcement had an average weekend with nothing major to report over the holiday.
Sgt. Jeff Wilson of the Tuolumne County Sheriff's Office says when looking over his logs, nothing stood out.
Sgt. Wilson noted there were a few reports of domestic battery as well as one fight between two men. As county coroner he noted it was unusual that he had to respond to three calls within an hour's time. The three individuals were in their 70's or 80's and passed away in various unrelated locations.
Sonora Police Chief Mark Stinson reports it was also very quiet for his department. Chief Stinson reported three DUI arrests and a couple people charged with public intoxication. Chief Stinson says, "It was nothing out of the ordinary." He added, "Normally we see less activity when New Year's falls on a weekday and not a weekend." He notes most of the time people have to work the next day and don't party as hard as they do when the holiday is before a weekend.
The Angels Camp Police Department reported earlier that a Golf Cart Thief Was Busted.