Financial Help For Businesses Impacted By Flooding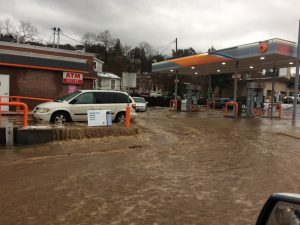 Flooding in Sonora

View Photos
Sonora, CA – Businesses impacted by Wednesday's torrential rains that caused destructive flooding in Tuolumne County could get federal assistance, but only if they ask for it.
Local businesses that had flooding are being encouraged by the Tuolumne County Economic Development Authority (TCEDA) to submit an economic injury worksheet. It will help determine if the county and city of Sonora meet the criteria to request an Economic Injury Disaster declaration from the U.S. Small Business Administration (SBA) and in turn allow for low-interest federal loans. It can also cover some operating expenses until a business recovers.
Here is how the worksheet comes into play. Currently, the California Governor's Office of Emergency Services is working with the county to collect the paperwork. A minimum of five worksheets with substantial economic losses due to the disaster event are needed to get the ball rolling. The filings would establish the extent and magnitude of economic injury local businesses have suffered due to the flooding and subsequent loss of business. TCEDA officials advise that filling out the form does not obligate anyone to apply for a loan and it is not an application for assistance.
Business owners can get questions answered and help in filling out the worksheet at The 6th Annual Sonora Business Expo being held tonight from 5:30 p.m. to 8 p.m. at the Sonora Opera Hall. It is located at 250 South Washington Street in Sonora. Click here for a worksheet.
Additionally, TCEDA officials report that at tonight's meeting Kate Winders from the Valley Sierra Small Business Development Center will be on hand to answer questions and help with filling out the worksheet. If you cannot make it, she can be contacted at (209-422-6416) or email kwinders@valleysierrasbdc.com.
Of note, the business expo, which was already scheduled before yesterday's  flooding, has two speakers addressing the crowd regarding preventing business theft and new employment laws, including minimum wage changes.