Hwy 140 In Ferguson Burn Scar Closes For Latest Storm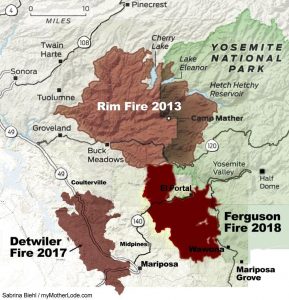 Ferguson Fire, Detwiler Fire, Rim Fire

View Photos
Sonora, CA — For public safety reasons, Caltrans is conducting another pre-emptive closure of Highway 140 in and near the Ferguson Fire burn scar beginning around 1 p.m.
The decision was made due to ongoing storm activity that could impact the roadway in the still fragile post-fire area. This is at least the fourth time officials have taken this action since last fall as risks in storm conditions include mudslides and the movement of debris, such as rocks, onto highway lanes.
The specific closure area is located between about 17 miles from Bear Creek near Midpines and Foresta Road in El Portal, which is approximately four miles west of the Yosemite National Park entrance. Officials say the estimated time for reopening the area depends upon potential weather impacts and time necessary for any required clearing and inspection.
Yosemite National Park officials have informed employees affected by the closure to contact their supervisors and use the Weather and Safety Leave (WSL) matrix tool to check for leave eligibility.