Kewin Mill Repairs To Cost Around $1-million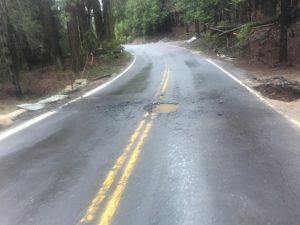 Kewin Mill Road storm damage

View Photos
Sonora, CA — The Tuolumne County Supervisors will use around $1-million from SB 1 gas tax revenue to make storm related repairs along Kewin Mill Road.
We reported earlier that the road was damaged this past weekend north of Belleview Elementary School. While temporary repairs were made this week, a permanent fix will require replacing a culvert and repaving the roadway. The county wants to get the work started as soon as possible, so the board voted unanimously to allow Community Resources Agency Director David Gonzalves the ability to fast track the work and bring in the needed equipment, services and contractors required for the emergency repairs.
It is estimated to cost $1-million, and Gonzalves noted that it will delay other projects being worked on by county staff. The vote to move forward was 5-0. It is unclear when the Kewin Mill work will begin, but it is projected to last two weeks. During that time, the plan is to close and reopen the road at various times throughout the day so that traffic can still move through. The county is planning to communicate the plan with the public as the work draws nearer.