Neighbor Foils Vehicle Thief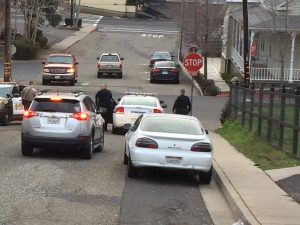 Arresst scene on Stewart Street

View Photos
Sonora, CA — An initial call to Sonora Police Dispatch regarding a disabled vehicle turned out to be something else entirely – as officers caught an alleged thief in the act.
An observant neighbor reported that a vehicle was stalled in the roadway on the 400 block of Stewart Street on Monday around 5 p.m. When officers came upon the scene, a man found near the 2003 Honda Pilot, 21-year-old Joshua Ryan of Oakdale, took off running towards downtown Sonora, according to police. Officers gave chase and quickly caught and handcuffed him.
During questioning officers learned that the vehicle was not disabled, but instead relay that the suspect was actually attempting to steal the car from a nearby home. Police say he was able to roll it down the driveway, but unable to get it started and drive away.
Ryan was arrested for vehicle theft and resisting arrest. His bail was set at $10,000. Ryan is also a prime suspect for another theft that happened earlier that day, according to Police. No further details were released on that investigation.