Update: Suspicious Death Investigation In Groveland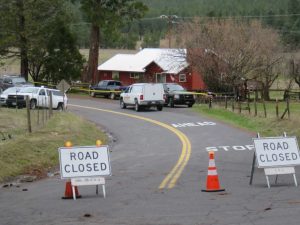 TCSO investigate a shoot inside this home on Smith Station Road in the Groveland area

View Photos
Update at 3:30 p.m.: Clarke Broadcasting has learned further information surrounding a shooting that left a woman dead in the Groveland area.
Tuolumne County Sheriff's Officials have labeled it as a suspicious death and are declining to call it a homicide. Sheriff's spokesperson Lt. David Vasquez explains, "Given the nature of the total circumstances, the responding deputies felt that they needed additional support from the detectives division based on evidence that they observed at that time." He went on to say, "That is why we are calling it a suspicious death to ensure that we investigate all evidence associated with this incident and to establish whether a crime has been committed."
When question about those circumstances and evidence, Lt. Vasquez relayed that there was no specific information that could be released to the public without it possibly being detrimental to the active investigation.
As first reported below, sheriff's dispatch was alerted to the shooting after a call came in around 8 a.m. regarding a female with a gunshot wound  at a home on Smith Station Road near Highway 120. Sgt. Vasquez says it is unclear exactly when the shooting took place. He added that detectives are currently canvassing the area and contacting neighbors to rule out all leads.
As to any possible circumstances that could have led to the victim's death, Lt. Vasquez commented that he has none of the woman's previous medical history, which is another reason why they are treating it as suspicious and allowing for all angles to be covered. Further details on the shooting can be viewed below.
Update at 1:15 p.m.: The Tuolumne County Sheriff's Office is releasing new details regarding a suspicious death in the Groveland area at a home on Smith Station Road near Highway 120.
Detectives are now revealing that at 8:00 a.m. the Sheriff's dispatch received a call about a woman who suffered a gunshot wound. When deputies arrived at the scene and located the woman she was deceased. Investigators remain at the scene and report that Smith Station Road will be closed at Highway 120 to Sutten Road.
As first reported below, sheriff's detectives are treating the situation as a suspicious death. Sheriff's official relay that detectives are actively pursuing all leads. Anyone with information regarding the shooting is asked to call the sheriff's dispatch at: 209-533-5815.
Original post 12:50 p.m.: Groveland, CA — There is a heavy amount of law enforcement activity in the area of Smith Station Road near Highway 120.
Tuolumne County Sheriff's Office spokesperson, Lt. David Vasquez, confirms that there is an active "suspicious death" investigation underway. The sheriff's office is declining to call it a homicide investigation at this time. Smith Station Road is closed in the area, stretching from Highway 120, past the home where the investigation is occurring, and continuing to the turnout towards Coulterville.
You will want to avoid the area. We'll pass along more information as it becomes available.