More Heavy Rainfall Could Create Mother Lode Traffic Hazards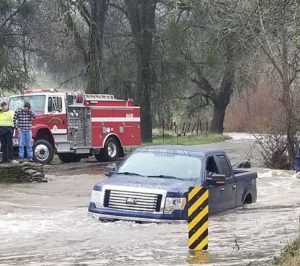 Truck Flooded In Amador County

View Photos
San Andreas, CA — Citing that someone required a rescue in a nearby county this past weekend, the San Andreas CHP is urging caution over the upcoming days when additional heavy precipitation arrives.
Officer Toby Butzler says, "We just had an incident in Amador County over the weekend where a driver decided to try to drive across a flooded roadway, and got stuck. This required the rescuers to risk their lives to save someone. So, if the roadway is flooded, don't cross it. If the road closed signs are out…don't try to drive around them. You're going to get a hefty tow bill, and a hefty ticket, if you do."
The incident referenced happened near the intersection of Turner Road and Chicago Road during a blast of wet weather.
We reported earlier that during storm events two weeks ago so many people were trying to go around barricades of a flooded Pool Station Road, near Riata Way, that an officer had to physically stay at the site until the waters receded. Around that same time, in Tuolumne County, a man escaped through a window after disobeying road closure signs, and having his vehicle swept away, on Red Hills Road near Highway 120, in the Chinese Camp area.
Over the coming days, Officer Butzler also asks that you slow down, make sure your vehicle is in good condition, and always have your headlights on when windshield wipers are activated.
Click here to view the latest from the National Weather Service. The next storm system is anticipated to arrive in the region late this evening and continuing through Friday. Snow levels are expected to remain very high early in the week and then drop to foothill elevations by Thursday and Friday.