Rollover Crash In Calaveras County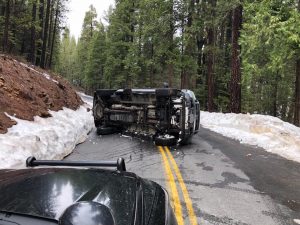 CHP Rollover Crash on Moran Road

View Photos
Update at 2:15 p.m.: The CHP is reporting no injuries in this crash. Tow crews are on scene working to upright the SUV and the roadway should open shortly. There are no further details regarding the collision, but the CHP warns drivers to slow down and remember that some roadways may still be slick from the recent wet, stormy weather.
Original post at 1:50 p.m.: Avery, CA — Emergency crews are on the scene of a rollover crash in the Avery area of Calaveras County.
The CHP reports that an SUV overturned on Moran Road, off Highway 4, and is blocking both lanes of traffic, as can be seen in the image box. Officers are rerouting traffic between Love Creek and Lightning Lane while the wreckage and debris are being removed from the scene. We will bring you more details as soon as they come into the newsroom.