Sonora Looking At Linoberg Closure And Marijuana Tax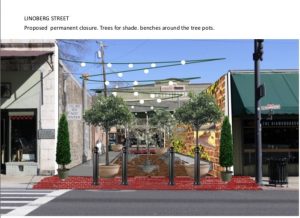 Proposed permanent closure of Linoberg Street

View Photos
Sonora, CA — At its next meeting the Sonora City Council may take action to close Linoberg Street on a trial basis, and implement a tax that would impact marijuana delivery businesses.
The city has long discussed whether to close Linoberg Street so that it can be used as a park area, and leaders will debate whether to approve a one year closure.
It is the area of Linoberg that is situated downtown between Washington and Stewart Streets. Only "non-permanent" improvements would be allowed over that period, while it serves as a pedestrian corridor. The city would review how things go over that time and then make a decision at a later date regarding if a permanent closure is desired.
Also Monday, the council will vote on a resolution to impose a 15-percent tax on gross receipts of any cannabis related business operating without a city approved development agreement. The action comes in response to a state ruling that disallows cities and counties from banning cannabis deliveries within their jurisdictions. This action would force those businesses to pay the 15-percent tax.
Monday's meeting will start at 5pm at Sonora City Hall.