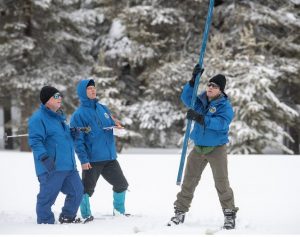 DWR officials measuring the third snowpack at Phillip Station

View Photos
Sonora, CA – California is drenched and its mountains are piled high with snow furling the vital Sierra Nevada snowpack's third manual snow reading today.
Department of Water Resources (DWR) officials found that statewide the snowpack is 153 percent of average for this date. They say that is a result of several "atmospheric rivers" during February.
"This winter's snowpack gets better each month, and it looks like California storms aren't done giving yet," Karla Nemeth, the department director, said in a statement. "This is shaping up to be an excellent water year."
Thursday's survey at Phillips Station near Lake Tahoe recorded 113 inches of snow depth and a snow water equivalent (SWE) of 43.5 inches, which is more than double what was recorded last month at the same location. Ironically, a measuring done here in April 2015 that then-Gov. Jerry Brown attended had no snow on the ground and just a barren field. Brown later mandated water conservation measure for the state that ordered Californians to use their taps less.
The state's six largest reservoirs are holding between 84 percent and 137 percent of their historical averages to date. The levels at New Melones is 84 percent with Don Pedro and McClure sitting at 82 and 64, respectively.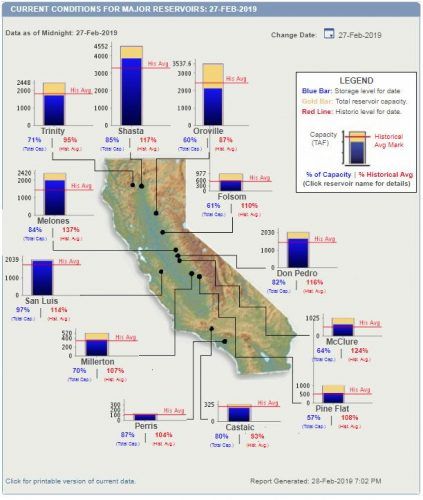 "Along with the water supply benefits of the heavy rain and snow, there is also increased flood risk," said John Paasch, DWR Chief of Flood Operations. "We've activated the Flood Operations Center, a joint effort between DWR and the National Weather Service, to closely monitor weather, reservoir, river, and flood conditions. Our goal is to share timely and accurate information about changing conditions to help people and communities respond to flood events and stay safe."
The U.S. Drought Monitor reported that more than 87 percent of California is free of drought conditions or unusual dryness and just over 2 percent remains in the drought category. A mere three months ago, nearly 84 percent of the state was in moderate, severe or extreme drought, and the rest was abnormally dry.