Paving Repairs To Slow Travel On Local Highway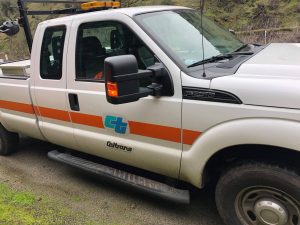 Caltrans Truck

View Photos
Sonora, CA – Caltrans reports road work will impact three neighboring counties including Tuolumne and run from March until September.
The other counties involved in the $3.8 million dollar paving project are San Joaquin and Stanislaus. Crews will not only make repairs at twelve locations along highways in these counties, but also apply rubberized hot mix asphalt. Allum states that those areas were identified because of having a history of traffic problems during wet conditions. He elaborates, "It [the material] is a type of glue or adhesive, which can be rolled on by hand or with equipment, and then small rocks are added. What that does with vehicles is help when they're trying to slow or break."
The material will be used on the eastbound lane of Highway 120 in Tuolumne County near Rushing Hill Lookout Road, east of Knights Ferry. The work at this site will begin sometime in late May or June, according to Allum, who adds, "The exact sequence of location start dates has not yet been finalized for the entire project." The hour or operation will be overnight to cause the least amount of impact to motorists.
Caltrans asks travelers to use an alternative route if possible to avoid delays as there could be flaggers directing one-way traffic creating stoppages of up to fifteen minutes.