Junior Bryant To Speak At Annual Thank You Dinner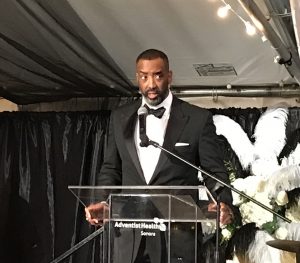 Junior Bryant Speaks At 2017 Joie de Vie Gala

View Photos
The public is invited to this Friday night's Summerville Bears Quarterback Club's Community and Sponsor Thank You Dinner.
Ron Roberson, President of the Summerville Bears Quarterback Club, was Thursday's KVML "Newsmaker of the Day".
The Keynote Speaker is Junior Bryant, former star defensive lineman for the San Francisco 49ers.
The event will be held on Friday, March 1st at the Elks Lodge in Sonora. All of the proceeds will go to the local non-profit, whose mission is to provide a safer and more cost effective football program for Summerville High School student athletes and their families.
Junior will be traveling from Southern California to attend this fundraiser. His inspiring story will guarantee a great evening full of motivation and positivity. A veteran of the National Football League, Junior retired from the San Francisco 49ers in 2003 after a ten-year career as a defensive lineman. He played college football for the prestigious University of Notre Dame where he graduated with his B.B.A degree. Junior currently serves as an advisor to emerging companies and previously served as Vice President and National Marketing and Sales Director for Pacific Global Investment Management Company and the Pacific Advisors Funds. He is also active in several philanthropies, as a board member of Forever Young Foundation and co-founder of Legends of Sports Foundation.
Tickets can be purchased for $25 per person at the offices of Benton Roberson CPAs in East Sonora and at Yosemite Title Company in downtown Sonora. Any leftover tickets will be available for the same price tomorrow night at the door.
The evening includes a full buffet style dinner featuring three different entree options of salmon, steak and chicken. There will be a no-host bar. The doors open at 6 PM. Dinner will be served at 7 PM.
The Summerville Bears' Quarterback Club was formed to support Summerville High School's student athletes, with an emphasis on those involved in the football program. The Club provides monetary and community support to make the football program safer and more enjoyable for all those involved, while simultaneously making the program more affordable for students.
The Club is an approved 501(c)3 non-profit organization whose members donate time, energy and money.
For more information about the event or the Summerville Bears Quarterback Club itself, please contact Roberson at (209)743-0021.
The "Newsmaker of the Day" is heard every weekday morning at 6:45, 7:45 and 8:45 on AM 1450 and FM 102.7 KVML.