Calaveras Supervisors To Ratify Local State of Emergency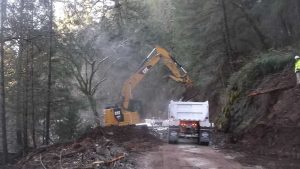 Clearing rock slide on HWY 26 east of Glencoe

View Photos
San Andreas, CA — The Calaveras County Supervisors are planning to approve a local state of emergency declaration following the flooding, extreme wind, and mudslides that occurred starting February 12.
The amount of damage from the storm is still being calculated, but declaring a local state of emergency opens the door for potential state funding. There were failed culverts, power outages, flood damage and downed trees. Highway 26 near Glencoe remains closed due to storm impacts.
Also today, the supervisors will hear an annual update on tourism from the Calaveras County Visitors Bureau, and receive a mid-year budget report. The regular session portion of the meeting starts at 9am at the Government Center in San Andreas.