Democrats: Legislation To Prevent Gun Violence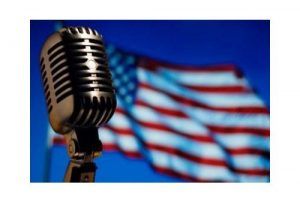 Microphone and US Flag

View Photos
Congresswoman Lucy McBath of Georgia delivered the Democrat's Weekly Address.
McBath was Tuesday's KVML "Newsmaker of the Day". Here are her words:
"Hi, I'm Congresswoman Lucy McBath and I'm proud to represent Georgia's 6th Congressional District.
There have never been more women or people of color in Congress and I'm honored to be a part of this historic freshman class. I proudly serve on both the Judiciary and Education [and] Labor Committees.
This coming week, H.R.8 the Bipartisan Background Checks Act of 2019 will come to Floor of the House for a vote. This historic, bipartisan gun violence prevention legislation was introduced by Mike Thompson and was co-sponsored by myself and many of my colleagues. The bill will ensure background checks for all gun sales, including unlicensed gun dealers.
As many of you may know, gun violence is an issue that is deeply personal for me. In 2012, my son Jordan Davis was shot and killed by a man who opened fire on a car of unarmed teenagers at a gas station in Jacksonville, Florida. My son Jordan was 17 years old. Jordan would have turned 24 this past weekend.
After my son's death, I dedicated my life to advocating for commonsense gun safety solutions. But, it was the shooting at Marjory Stoneman Douglas High School in Parkland, Florida last year that finally motivated me to run for Congress.
The pain of losing a child to gun violence never ends. It is that pain which drives my work to prevent gun violence.
These stories are vitally important as we work to pass commonsense gun safety legislation to keep families like ours from experiencing the horror and the heartbreak brought on by gun violence.
The overwhelming, bipartisan support for universal background checks symbolizes the power of advocacy and the incredible power of the survivors, family members and students who have shared their stories as they advocate for commonsense gun safety solutions and demand that we act to address gun violence.
House Democrats are taking action to make sure our communities and our nation are safer.
We need commonsense legislation to prevent gun violence and ensure that mothers and fathers have one less reason to worry. This gives students one less thing to fear when they walk into school. Most importantly, it makes our communities and our nation a safer place to live.
Thank you."
The "Newsmaker of the Day" is heard every weekday morning at 6:45, 7:45 and 8:45 on AM 1450 and FM 102.7 KVML.