Mist Trail Mishap Results In Fatality At Yosemite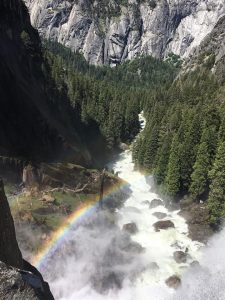 Yosemite's Mist Trail from the top of Vernal Fall

View Photos
Yosemite, CA — A Yosemite National Park visitor succumbed to injuries after being struck by falling rock and ice along a popular hiking trail while it was closed to the public for potentially dangerous seasonal conditions.
According to park officials, a 56-year-old woman from Cupertino identified as Xuan Wang died shortly after she was hit by falling debris that came crashing down onto the Mist Trail around 12:30 p.m. on Sunday. The trail was specifically closed due to prevailing icy and hazardous conditions.
A popular hikers' route from Yosemite Valley to the top of Vernal Fall, the Mist Trail is also a way to access the park's fabled Half Dome climbing cables. Rangers say that Wang was injured on the Mist Trail section leading to Vernal Fall after ignoring closure signage and circumventing a gate.
Officials say no further details are currently available and that an investigation into the accident is ongoing.