Calaveras High Hoping Storm Damaged Baseball Field Fixed Ahead Of Season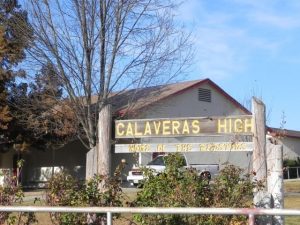 Calaveras High School

View Photos
San Andreas, CA — Baseball practice is underway, and there are questions if Calaveras High School will be able to host early season home games.
District Superintendent Mark Campbell tells Clarke Broadcasting that tarps were placed on the field ahead of a storm system on February 13 and they were connected to the fence on the backstop. When the heavy winds passed through, it blew tarps away. He notes, "It did some pretty significant damage to the backstop, with bent poles, and bent fencing."
The field is currently off-limits, as officials plan for the repairs. Insurance is expected to cover the thousands of dollars in damage. Campbell shares, "An added layer is that the field is not a Calaveras Unified School District facility, it belongs to the local parks and rec., and we have a joint use agreement, and we are working with them, as well, in regards to how best to address the damage. It will be addressed, it is just a matter of how."
He concludes, "Everybody is working together, and ideally the goal is to have the field up and running by the beginning of the season."
Home games are scheduled for early March and Bret Harte High School could be an alternate location if the field is not ready.