Sonora High Ballers Division Champs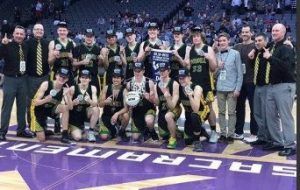 Sonora High Varsity Basketball team CIF Sac-Joaquin Section Division IV Champions!
Sonora, CA – The Sonora High Varsity Boys Basketball team is the new CIF Sac-Joaquin Section Division IV Champions!
The Wildcats played the Liberty Ranch Hawks of Galt at the Golden One Center in Sacramento this afternoon and walked away with the victory — but it came down to the wire.
After leading at the half, 43 to 37, the third quarter ended with the Hawks tying it up at 57 a piece. The two teams battled back and forth through the fourth quarter. But with 22 seconds on the clock and the score, Liberty 70 and Sonora 71, a Hawk player was charged with a foul. That gave Sonora the opportunity at two free throws. Both were sunk, securing the victory for the Wildcats with a final score of 73 -70. Click here for some game video.
It is unknown who Sonora will play next. When asked by Clarke Broadcasting about the Wildcats moving on to the state playoffs Assistant Principal and Athletic Director Karen Sells relayed, "We will find out Sunday night when and where after the seeding meeting."
Click here for video of the celebration after the game by team and here for fans.