Come Alive With Frampton, One Act In Black Oak Concert Series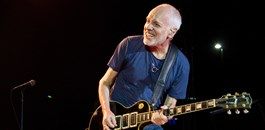 Peter Frampton performs at the Horseshoe Casino in Cincinnati, Ohio

View Photos
Tuolumne, CA – Get ready to clap your hands, tap your toes and dance up a storm as Black Oak Casino Resort has announced a few of its acts to grace the stage at its 6,000 seat Westside Pavilion in Tuolumne.
"The Black Oak Concert Series changed the face of entertainment in Tuolumne and beyond," said Aaron Moss, general manager of Black Oak Casino Resort. "With the success of the initial season, we anticipate this year to be bigger and better."
This year's "Black Oak Concert Series" includes the legendary singer and guitarist, Peter Frampton. This could be the last chance for fans to see him perform as this is his farewell tour after which he plans on retire. It is also the last act for the series with the concert scheduled for Sunday, October 6. His album Frampton "Comes Alive!" sold 17 million copies and recently celebrated its 42nd anniversary. It remains one of the best-selling live records of all time.
The Peter Frampton Finale tour will also feature Jason Bonham's "Led Zeppelin Evening." He is the son of iconic Led Zeppelin drummer, John Bonham. The show is a one-of-a-kind tribute to his father's band. Tickets go on sale March 1.
Kicking off the concert series is Grammy-nominated country band Midland on May 25. Midland's debut album, "On the Rocks" in 2017, was named "the year's best country album," by the Washington Post and the band's first single "Drinkin' Problem" garnered Grammy nominations for Best Country Song and Best Country Duo/Group Performance.
Ska punk band, Sublime with Rome is made up of original co-founding member bassist Eric Wilson and new on vocals is Rome Ramirez. This spring they will release their first new album in four years, along with new single, "Wicked Heart." The band will be joined by special guest Common Kings on June 20.
For more information on concerts and tickets click here or call (877) 747-7777.