Neighbor Entrusted To Watch Home Arrested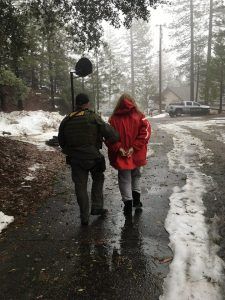 Jessica Corbin Lack being arrested

View Photos
Cedar Ridge, CA — A Sonora woman asked to keep an eye on an elderly neighbor's Cedar Ridge home instead allegedly burglarized it to the tune of nearly $80,000.
Jessica Corbin Lack was taken into custody after a joint investigation by Tuolumne County Sheriff's Detectives, the District Attorney's Office and Adult Protective Services resulted in an arrest warrant.  A search of Lack's home uncovered evidence linking her to several burglaries at her neighbor's home between 10/18/18 and 12/08/2018.
Sheriff's detectives allege that Lack targeted her 70-year-old neighbor by gaining the elderly woman's trust and she then asked Lack to watch her property while she was gone. Lack is accused of stealing more than $77,000 in jewelry and cash while also using the victim's credit cards. Investigators are seeking the public's help in the recovery of the victim's property or if anyone has information regarding other crimes Lack may have committed, call the Sheriff's Communication Center at 209-533-5815.
That number can also be called to report abuse as sheriff's officials warn the public that criminals typically prey on the elderly, people with special physical or mental needs, or people dependent on caregivers.