Update: Fatal Crash On HWY 120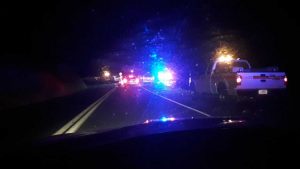 HWY 120 fata crash

View Photos
Update at 4:30 p.m.: CHP Investigating Officer Steve Griefer tells Clarke Broadcasting that it is not known exactly when the vehicle went down the embankment on Highway 120 about a mile east of Grizzly Road in the Moccasin area. He adds that a search and rescue team is on the way to the scene and will be using ropes to retrieve the body and the vehicle from the ravine. Griefer details that it is believed to be a solo-vehicle crash with one person dead at the scene, but he says search crews will also be combing the area to make sure there are no other individuals involved. He adds that the only way to know exactly how the person died will be through an autopsy. The victim's name is not being released pending notification of family. Further details regarding the collision are below.
A special thank you to our community partner Sheena Winkler for sending in these photos.
Original post at 3:30 p.m.: Moccasin, CA — Emergency crews are on the scene of a fatal crash on Highway 120/New Priest Grade in the Moccasin area slowing traffic.
The wreck happened near the Grizzly Road intersection and was reported by passersby to the CHP around 3 p.m. today. Once on the scene, an officer relayed that a vehicle was about 200 feet down an embankment.  A check of the vehicle revealed that one person was deceased, but it is unclear regarding the exact cause of death or what caused the accident.
Officers are directing one-way traffic control as the eastbound lane is blocked with emergency equipment. We will bring you more details as soon as they come into the newsroom.