New Supervisors Shakeup Tuolumne County Planning Commission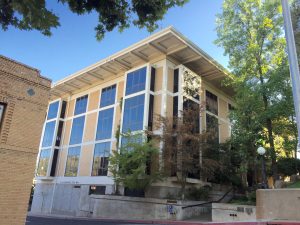 Tuolumne County Government Building

View Photos
Sonora, CA — The Tuolumne County Planning Commission will have a new look when it holds its next meeting, as two new members have been picked to join the group.
Up for reappointment in District Two was Peter Rei, who was nominated to join the commission four years ago by former Supervisor Randy Hanvelt, and up for reappointment in District Three was commissioner Heidi Lupo, who was nominated by former Supervisor Evan Royce.
While Rei and Lupo had both expressed interest in continuing on the commission, new supervisor Ryan Campbell nominated Larry Biel for district two, and supervisor Anaiah Kirk recommended Matt Nutting for District Three. The other supervisors supported the new board members, and approved the appointments with a 5-0 vote.
Biel has lived in Tuolumne County for 30 years and was previously a staff member with the Planning Department. In his application he indicated that he is an advocate for transparency and safety, and he requires no significant training to understand the basics of the General Plan, zoning and environmental review process.
Nutting has 18 years of experience as a licensed attorney, primarily in real estate law. He also has 12 years of experience as a licensed broker. He has volunteered for groups like Habitat for Humanity and has served as a general counsel for numerous charities and churches.
In addition, the supervisors chose to reappoint Mike Gustafson to the lone at-large seat on the commission that was expiring. Gustafson is a retired engineer who has been active in the past serving as a member of the Board of Directors for Pine Mountain Lake.
The other seats on the commission, which will be up for reappointment in 2021, are Cole Przybyla (District One), Jerry Baker (District Four), Charlotte Frazier (District Five) and Dick Pland (At-Large).