Update: Power Outages And Traffic Incidents With Low Snow In Mother Lode Foothills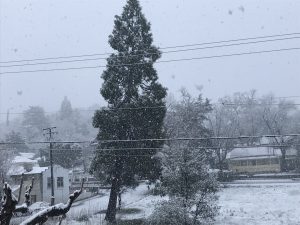 Sunday Morning Snow In Downtown Sonora

View Photos
Update at 12:30pm: Continue to drive with caution if you must be out on this Sunday afternoon. The CHP reports that a vehicle has overturned on Phoenix Lake Road near Oakhaven Lane. Tuolumne Road has also been difficult to travel today with some cars getting stuck in the snow, and others pulling off the road to recreate in the snow. Chains or 4WD have been required as low as Sonora on Highway 108 this afternoon, 1.5 miles west of Murphys on Highway 4, and 2.5 miles east of Groveland on Highway 120, so drive with extra caution, and be ready for the conditions.
Original story posted at 8am: Sonora, CA — There are some traffic incidents to be aware of, and power outages, on this Sunday.
Low snow is prevalent in the region. During the six o'clock hour this morning heavy snow flakes began falling in lower elevations, such as downtown Sonora.
PG&E reports that specifically Twain Harte has been hit hard by power outages. There are over 20 separate outages in the community, impacting over 70o customers. PG&E crews are heading to the area to investigate the various incidents.
The CHP reports that Tuolumne Road has been among the most treacherous areas for driving this morning. There are 5-6 cars stuck in the snow on Tuolumne Road, near Tuolumne Road North. In addition, there are two big rigs stuck on Tuolumne Road near Woodham Carne Road.
Multiple vehicles are spinning out on Highway 108 near Confidence Road. There is also an unidentified traffic hazard on Phoenix Lake Road near Longeway Road. Travel with extra caution if you must head out today.
For the latest on the weather, click here.