Expired, Sketchy License Plates Draw Deputies To Three Alleged Drug Dealers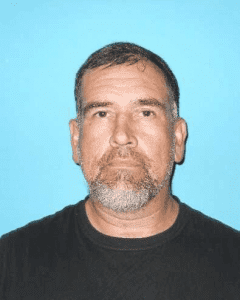 Shane Doerkson Jr TCSO Booking Photo

View Photos
Sonora, CA — In two separate incidents patrolling deputies arrested three suspects for alleged drug sales after noticing irregularities with their vehicles' license plates.
According to Tuolumne County sheriff's officials, around 1:30 p.m. Tuesday, a deputy made a traffic stop on Rawhide Road in Jamestown after spotting a vehicle with an obstructed license plate. When the driver yielded at the Sierra Energy gas station, the deputy learned that the suspect, 48-year-old Shane Doerkson, of Hughson, did not have a valid driver's license and additionally admitted to having a "meth" pipe in his pocket.
Upon further conversation, Doerkson acknowledged having a baggie of methamphetamine in the door panel of his vehicle. A subsequent search revealed approximately 3.5 grams of the suspected drug. Following a consent search of his cellphone, which reportedly showed evidence of drug sales, Doerkson was arrested and booked for possession of a controlled substance for sale, possession of drug paraphernalia, and driving on a suspended license.
Late Friday night, officials recount that a deputy patrolling the parking lot of Chicken Ranch Casino noticed as he was about to exit the lot that a vehicle turning in had expired registration tabs. Turning around, he contacted the driver, 32-year-old Casey Malone, and passenger, 36-year-old Christina Bianchi, both of Modesto, as they exited. A consent search of the vehicle revealed a drawstring pouch containing approximately 14 grams of suspected methamphetamine beside the driver's seat.
K9 Maverick was deployed and alerted to the presence of a controlled substance, triggering a further search of the vehicle interior, which revealed another bag containing approximately 13 grams of suspected methamphetamine in a purse located on the passenger seat. Based upon interviews and evidence collected, the pair was arrested and booked for transportation of a controlled substance, possession for sales, and conspiracy.