$3.3 Million Stagecoach Road Bridge Ready For Ribbon Cutting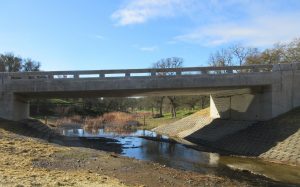 Stagecoach Bridge replacement side view, completed Dec 21 2018 CCPW Photo

View Photos
San Andreas, CA – After decades of dealing with a regularly flood inundated crossing, residents of a local ranch community have a sturdy new multi-million-dollar bridge span.
In planning stages for at least five years, Calaveras County's "Stagecoach Road Low Water Crossing Replacement Project" in the Copperopolis Diamond XX Estates subdivision wound up arriving kind of like a holiday gift.
According to Deputy Public Works Director Kelly Zahniser, actual construction began last June with final flourishes completing on Dec. 21 and the total cost coming in around $3.3 million. According to county documents, the construction costs were 100 percent federally reimbursable through the Highway Bridge and Toll Credits programs.
As the earlier crossing across Little Johns Creek experienced regular storm water impacts, making it unsafe and unreliable, a county road advisory committee requested a bridge project there in 2014. After getting the necessary federal and CEQA approvals, other legwork included obtaining adjacent rights-of-way for about two-thirds of an acre from private landowners.
The project replaced the former low-water crossing with a 70-foot single-span concrete structure featuring two nine-foot travel lanes, each with two-foot shoulders. (You can view Public Works photos of the completed project in the image box slideshow.)
Zahniser notes that the Public Works Department slated an open-to-the-public ribbon cutting at the bridge, which will serve the community for decades to come, for Thursday, Feb. 21 from 2:15 to 3 p.m.
Located off Highway 4 in Diamond XX, the span itself is less than a mile north of the Stagecoach Road-Surrey Lane intersection. Zahniser adds that traffic controls will be in place to direct attendees. Also, since the bridge will briefly close during those times, thru-traffic motorists will need to either wait or find a different route.