Officials Warn Mother Lode Residents To Prepare For Incoming Storms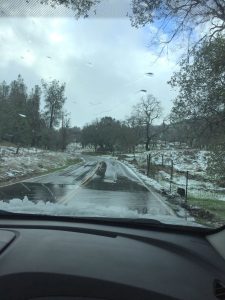 Flooding water flowing over Pool Station Rd near Hwy 4 during snow Feb 5 2019

View Photos
Sonora, CA – With imminent, anticipated heavy rains and potential flooding heading into the Mother Lode, county officials alert residents to be aware and prepare ahead.
The National Weather Service forecasts that storm activity beginning tonight will bring moderate to heavy rains with gusting winds and accumulating snows at and above 4,000 feet. Liz Peterson, OES Coordinator for Tuolumne County, advises residents to reduce or eliminate travel when it is storming and keep vehicle gas tanks full. Keep clear of hazards such as rising water and downed power lines on roadways and properties. Report downed lines and other emergencies but use 911 only for emergency purposes.
She adds, that ahead of the storms, check on family and neighbors with special needs; also, ensure pets and livestock are safe, especially those living outside. Prepare to use alternative heat sources and for potential power outages due to winds, downed trees and other storm-related causes. Emergency supplies should include necessary prescription medications, food, water, flashlights, battery-operated radio and lanterns as well as batteries and a phone that plugs directly into the wall. Monitor local radio stations and other news sources for updated information.
Tuolumne County Sand Depots
Before the storms, clear debris from culverts, drains and gutters and place sand bags. Sand is available in the following locations for Tuolumne County residents, who need to bring their own bags and shovels…
–Big Oak Flat/Groveland Road Yard, 11240 Wards Ferry Rd.
–Columbia Airport, 10723 Airport Rd.
–Jamestown Road Yard, 18188 7th Ave.
–Tuolumne City Fire Department
–Tuolumne Road Yard, 18870 Birch Rd.
Sand, Bags Available Across Calaveras
Calaveras County Office of Emergency Services and Public Works Department have stocked ten locations with sand and bags, additionally noting that some locations are not open 24/7, as indicated below. They request that residents limit the number of sand bags to ten per resident — and BYOS (bring your own shovel)…
–Arnold Maintenance Yard, 1119 Linebaugh Rd. (closes at 3:30 p.m.)
–Copperopolis Fire Department, 370 Main. St.
–Glencoe Maintenance Yard, 16151 Hwy 26 (closes at 3:30 p.m.)
–Jenny Lind Yard, 11558 Milton Rd., (closes at 3:30 p.m.)
–Mangili Rd. Cul-de-sac at Valley Springs Sports and Fitness, 145 Mangili Rd.
–Mountain Ranch Community Center parking lot by the Public Safety Substation, 7869 Whiskey Slide Rd.
–Murphys Fire Station, 37 Jones St.
–San Andreas Rd. Yard, 891 Mountain Ranch Rd (closes at 3:30 p.m.)
–Vista Del Lago Cul-de-sac near Valley Springs Dental, 313 Vista Del Lago
–West Point Fire Station, 195 Spink Rd.
Angels Camp Police Department also has sand, bags and a shovel available 24/7 at its 200 Monte Verda St. offices.