Update: Monday Power Outages And Delays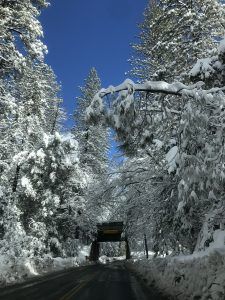 Snow In Twain Harte

View Photos
Update at 5:30pm: PG&E reports it has restored service to some nearly 1,600 customers between Arnold and Bear Valley that lost power Monday morning.
Gains have also reportedly been made in the Jesus Maria area, where currently 20 of 60 customers who were in the dark are still waiting for their lights to come back on.
Update at 12:14pm: The latest regarding Mother Lode Power outages is that is that about 1,600 more customers between Arnold and Bear Valley are out of power.
PG&E reports that 864 customers lost power just before 11 a.m. between Big Meadow and Bear Valley. Crews are still investigating the cause so there is no estimated time of restoration yet. Another 795 are out of power between Fly-In Acres and Lakeside Terrace. Again, there is not yet an estimate for when the lights till be going back on for these customers.
For the 16 customers out of power between Camp Connell and Dorrington, PG&E indicates the power should be back on by 3 p.m. However, in the Lake Alpine area, 46 accounts that have been out of service since Feb. 1 will likely be waiting until Feb. 22 around 8 p.m.
Nearly 60 customers in the Jesus Maria area without electricity since early Sunday morning should have it back sometime before 3 p.m. today. In the Railroad Flat area five customers in the dark since Feb. 7 should be getting power back this Thursday, Feb. 14 by around 8:30 p.m.
In the Twain Harte area, PG&E still lists six customers without service and indicates power should be returning by 2 p.m.
In the Valley Vista Road area off Highway 120, 35 customers without service since Sunday mid-morning are estimated to be getting services back by 6 p.m. tonight. Around 3 o'clock this afternoon utility officials say the 20 remaining customers without power since early Sunday morning below Yosemite Pines RV Resort should be again getting service.
Original Post at 6:37am: Sonora, CA — There are many icy locations due to the weekend's low snow, combined with the hard freeze overnight.
Most public schools are closed today due to Lincoln's birthday. You can find a rundown of other delays in the school delay section of myMotherLode.com. They include transit, government offices, charter schools, Columbia College, etc.
There are 58 PG&E customers still without power in Jesus Maria, 15 near Railroad Flat, 18 near Dorrington, 10 outside of Twain Harte, 25 near Columbia and 28 in the vicinity of Groveland. PG&E is hoping to have the remaining customers restored today.
The National Weather Service has issued another Winter Storm Watch for the Sierra Nevada above 4,000 feet, from late Tuesday evening through Thursday. Click here to view the latest.