Update: Low Snow Blankets Mother Lode Foothills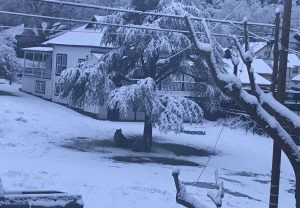 Morning snow in downtown Sonora (Archived Photo)

View Photos
Update at 9:45am: Tuolumne County government offices will have a delayed opening of 10am on Monday. Public safety will continue to operate normally. Public schools are closed Monday, but not due to snow, it is in recognition of Lincoln's Birthday.
Some vehicles venturing out this morning are getting stuck in the snow, according to the CHP. There is car stuck on Highway 108 near Soulsbyville Road, the 27000 block of Summerhill Drive in Strawberry, Middle Camp Sugar Pine Road near Confidence South Fork Road and Highland Way near Granite Lane.
In Calaveras County there is a tree across Highway 4 near Live Oak Drive and a tree across Highway 4 near the Arnold Byway.
Original story posted at 7:30am: Sonora, CA — Residents of the foothills are waking up to heavy snow on this Sunday morning.
Travel with caution this morning if you must head out and be prepared for some treacherous driving conditions. The CHP reports that there are thankfully limited hazards reported as of 7am, indicating that most people are deciding to stay off the roads. The most notable hazard is a tree down blocking Rawhide Road near Railbed Road in the Jamestown area. In Calaveras County, there is an unknown type of hazard on Highway 12 near Highway 26.
There are over 6,000 PG&E customers without power in the greater Murphys, Sheep Ranch, Vallecito and Jesus Maria area. It is multiple separate outages, so it remains unclear when there will be full restoration. There are smaller outages in Tuolumne County, impacting hundreds, in Tuttletown, Mono Vista, Sugar Pine, Columbia and outside of Groveland.
Click here for the latest on the storm system from the National Weather Service.