New Power Outage And Lingering Ones From This Week's Storms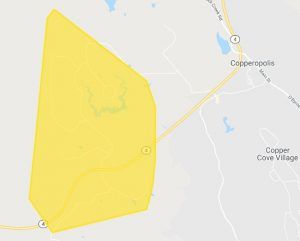 Power outage in the Copperopolis area

View Photos
Copperopolis, CA — PG&E is reporting a power outage in the Copperopolis area this morning impacting 131 customers along Horseshoe Lane and stretching from Chuckwagon Drive, past Highway 4, to Tug Way. The utility relays that crews are on the scene, but an estimated repair time is not available.
Remaining without electricity from this week's storms is just over 200 PG&E customers without power in the Mother Lode out of nearly 25,000 originally impacted as the wicked weather blew through. In Tuolumne County, the lights are targeted to come back on around 1 p.m. for 30 customers in the Phoenix Lake area, according to the repair time estimate posted by the utility. The cause has been determined to be an equipment issue.
In Calaveras County, over 190 customers in the Rail Road Flat, Glencoe, Wilseyville and West Point areas are still in the dark and the company has not concluded what sparked the outages or a restoration time.