Winter Storm Watch Issued For The Mother Lode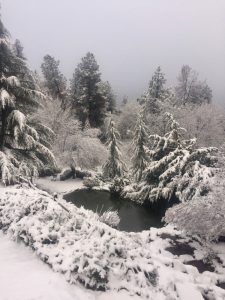 Snow in Soulsbyville (1-12-17)

View Photos
A couple of cold weather systems are forecast to bring significant snowfall to the northern California mountains over the weekend.
The first will bring light mountain snow as early as tonight and Friday but heavier snowfall is expected from this system Friday night and early Saturday.
A second and stronger system dropping out of Canada will bring heavier snowfall late Saturday through Sunday.
These cold systems will bring low snow levels with many Mother Lode foothill locations seeing snowfall again throughout the weekend.
The National Weather Service has issued a Winter Storm Watch for the Mother Lode (1,000 to 3,000 feet) from Friday afternoon through Sunday Afternoon.
A Winter Storm Watch has also been issued for the Sierra Nevada (above 3,000 feet) from Friday afternoon through late Sunday night.
Total snow accumulations in the Mother Lode will range from five to fifteen inches. In the Sierra Nevada, total snow accumulations will range from one to five feet.
Breezy or windy conditions will return as well for white-out conditions at times, especially Saturday night and early Sunday. Wind gusts of over forty mph are possible in the Mother Lode. Wind gusts of fifty to sixty mph are expected in the Sierra Nevada. Strong winds could cause extensive damage to
trees, tree branches and power lines.
Lingering showers will continue into Monday morning over the Sierra Nevada.
If traveling into the mountains over the weekend, prepare for winter travel conditions and check the latest road and weather reports before departure.
A Winter Storm Watch means there is potential for significant snow that may impact travel.