Mother Lode Law Enforcement Weigh In On Storm Impacts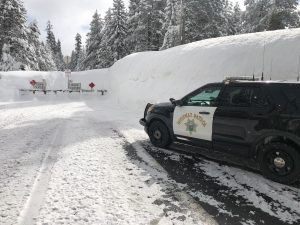 Hwy 4 closure gate Feb 6 2019 San Andreas CHP Photo

View Photos
Sonora, CA — It has been a very busy couple of days to say the least for local responders, who are still receiving multiple post-storm and freezing weather related incident calls.
To get a sense of storm impacts, the Tuolumne County Sheriff's Office shares that between the period beginning early Monday morning and continuing through this afternoon, officials report 120 calls made to the sheriff's office regarding downed trees or power lines, and 79 calls regarding traffic accidents, stranded motorists or vehicles blocking traffic. There were also a dozen requests for welfare checks on residents for such concerns as medical conditions and lack of heat.
CHP Sonora Unit officials warn motorists to continue anticipating slippery black ice conditions as sub freezing temperatures will remain with us into the next few overnights. They especially note travelers to be extremely cautious on bridges, overpasses and tree-lined roadways.
San Andreas CHP officials, who shared the image box photo taken at the Highway 4 Ebbetts Pass closure gate earlier today, add that folks should keep in mind that local jurisdictons simply do not have enough equipment and personnel to plow and sand every road.