Update: Tuolumne County OES Making Second Warming Center Available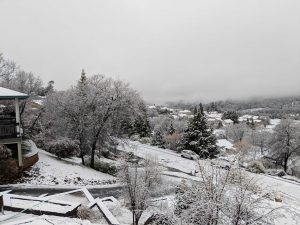 Downtown Sonora Snow

View Photos
Update at 3:58pm: According to the OES, Tuolumne County Animal Control is willing and able to safely shelter and care for pets belonging to those individuals who are staying at the warming shelters that are detailed below.
Pets must be brought to the Tuolumne County Animal Control facility (10040 Victoria Way) in Jamestown. Operating hours are 9 a.m.-4 p.m.
Original Post at 12:46pm: Sonora, CA — As storm-related power outages and freezing overnight temperatures continue, a second warming center will be opening by late afternoon.
Tuolumne County OES Coordinator Liz Peterson, shares that by 4 p.m. another warming center will be available for those in need in Mi Wuk Village. The location is the Word of Life Fellowship at 24630 Highway 108. While it will be staffed and have facilities, food and water for individuals and families who wish to stay overnight, no pets will be allowed.
The warming center in the gymnasium behind the Discover Life Seventh Day Adventist Church will remain open tonight through 8 a.m. tomorrow. Similarly equipped, it is located at 40 Forest Road. Again, no pets are allowed.
Peterson reminds those who plan to use the facilities to bring their prescription medications and/or medical equipment.